Photos are special souvenirs that stay with us after important events in life. They can take us to those special, breakthrough moments that happened to us and shaped our lives. To emphasize the special setting of the photo, it is worth storing it in personalized wooden boxes. This solution is gaining more and more popularity not only among newlyweds, but also photographers or filmmakers who wish to surprise their customers positively. Why is it worth choosing natural boxes made of wood? See it for yourself!
Made with a heart
Wooden boxes are an extremely individual accessory for photography that is very successful and can replace the classic photo album. They are handmade so you have the certainty that there will never be two identical models. To create them only real wood is used. Its proper preparation in combination with a wide range of shades makes the owner of the box come closer to nature when he reaches for them to once again return to his favourite moments.
This type of boxes made of wood is offered by the Wooden Store. Familiarize yourself with the brand's assortment and be amazed by these unique photo accessories.
In addition to a variety of wooden gadgets, the Wooden Store allows you to order online prints. All photos are developed on high quality papers to ensure the highest possible quality and enable the storage of photos for many years.
With ecology as your brother
An ecological approach to life and the incorporation of less waste principles into everyday life is no longer the case only for the chosen ones. More and more people are interested in how to take care of our planet. Mindful shopping and choosing products that do not contribute to the contamination are the first steps in the right direction. Wooden boxes for photos or other special souvenirs are an excellent choice as there are only ecological varnishes used for their production. It can be easily said that the entire box is therefore the quintessence of nature.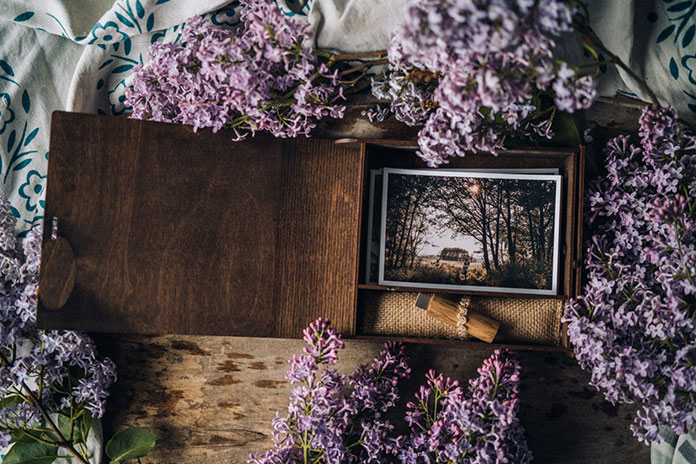 Personalization comes first
Real wood photo boxes are unique gifts. What if you could add some character to them and make them even better to fit you or become an unusual advertisement for our business? Usually, on boxes there is a place for engraving. You can choose ready-made configurations or go a step further and create your own pattern. You don't have to limit yourself only to inscriptions because the box can also successfully have a drawing selected by you. Thanks to such special personalization, the souvenir will gain a new dimension.
Good because it's Polish
Poles more and more often appreciate domestic products. This applies to many industries and it is impossible not to notice how much our market of Polish products is developing. Why is it worth choosing shopping with Polish brands? First of all, when you buy Polish products, you can be sure that they are made with proper care (especially if you decide to make handicrafts), with high-quality materials. It is equally important to support the domestic market, not mass foreign productions. This allows you to purchase a personalized product knowing that it was made for you by a specific person, not a machine.